Daily Fuel for Total Immune System Optimization - 23VITALS™
WHY DRINK 23VITALS
Fear, Stress, Worry & Anxiety = Suppressed Immune System, Foggy Mind, Poor Decisions, and You--Compromised.
WE ARE NOT MEANT TO LIVE IN A CONSTANT STATE OF SURVIVAL.
It's time to be proactive, vs reactive. Make the Shift from Living #Stressed to #Blessed. Your Immune System and everyone else around you, will thank you for it.
SEE WHAT PEOPLE ARE SAYING
Intentional Science Inspired by The Greatest Force on the Planet --> LOVE
Life's 'stuff' can be heavy. Physical, chemical, and emotional stressors suppress our magnificent immune system. Gain peace of mind knowing your immune system is fueled with everything it needs to make the shift from living stressed to blessed.
Great Taste - no pills
Drink One Scoop Each Day of Strawberry Lemonade or Orange Creamsicle Instead of Taking a Handful of Pills
Clinically Proven Immune Support
Over 50 Human Clinical Trials Backing Key Ingredients with Immune Support for Safety & Efficacy
All the Vitamin C, Vitamin D3, and Zinc you need
Over 500% DV of Vitamin C, Over 600% DV of Vitamin D3, Over 130% DV of Zinc
23 Science-Based, Immune Supporting Ingredients
Ingredients Selected with One Goal in Mind: Total Support for Your Entire Immune System
Beyond Boosting
Boosting is Not Enough, You Need Optimization. Optimized Immune Systems have All the Tools it Needs to Prepare, Defend, Support, and Recover from Challenges
Effectiveness First
No Corners Cut. Premium Immune Supporting Ingredients Dosed Effectively with All the Ingredients Your Immune System Needs
Ultimate Immune Solution
This is The Most Effective, Comprehensive, and Sophisticated Immune Supplement on the Market
7 Branded Ingredients
Premium, High Quality Assured Ingredients at Effective Doses
Innate Immune Support
Over 7 Ingredients Specifically Targeting the INNATE Arm of the Immune System (First line-of-defense Against Foreign and Internal Challenges)
Adaptive Immune Support
Over 6 Ingredients Specifically Targeting the ADAPTIVE Arm of the Immune System (Identify, Select, Neutralize and Keeps Memory of Foreign Challenges)
Whole Body Organ Support
8+ Ingredients Specifically Targeting Whole Body Organ Systems (Lung/Respiratory, Cardiovascular, Blood Flow, Gut-Microbiome and Brain/Nervous System)
Immune System Calming and Regulation
6+ Ingredients Focused on Regulating, Resetting & Calming the Immune System
23 Ingredients, Purposely Chosen and Intentionally Dosed to Fuel Your Immune System
ONE MISSION: Raise awareness around the impact of stress on our immune system & get you the fuel you need to power through, anything! Building a more resilient and more robust immune system.
Each and every ingredient choice serves a specific role, individually and collectively.
What began as a task to find an all-in-one supplement to keep our families and friends safe, quickly became a co-creation project to create the most complete immune system fuel in the world.
There are multiple aspects of modern living "conspiring" to take down our whole body health and organ systems... chief among them is our Immune System!
Living in survival mode can be addicting. Whether it's Physical, Chemical or Emotional.
However, when you are in this mode, you are unable to think clearly, you fatigue easily, you recover slower, you get sick easier, you age faster, and worst of all -- you suppress your immune system from doing it's job.
23VITALS was created to help those of us who know we should be doing a better job of 'living.'
Sometimes all it takes is a little confidence, one less thing to 'worry about.'
You can stop your searching, mixing and matching, we created something truly special. Feel confident knowing you're fueling your immune system with the absolute best supplementation, available - anywhere.
We would not have created this, if it had already existed...
CLICK TO DIVE DEEPER INTO OUR FORMULATION
Total Immune System Optimization Begins Here
Our wish is for 23VITALS to give you the jumpstart you need - to make smarter decisions about EVERYTHING that impacts your immune systems ability to operate as it always has - where every one of us - has the ability to heal - ourselves. It's our responsibility to live happier, more meaningful lives - and this requires personal ownership of the decisions we make - no one else's.
MORNING ROUTINE
Incorporate 23VITALS into your morning routine. Add 1 scoop to 12 to 24oz of filtered water, w/ or w/out ice - shake or stir - get your fuel fired up to nourish your Immuno-Warriors who were hard at work while you slept! Everything is energy, right? Your intentions with this daily elixir will help to amplify your bodies absorption. Happy Fueled Immuno-Warriors x Positively Charged Mind = Clear Head & Full Heart -->> Ready to CREATE
RECOVERY FROM PHYSICAL ACTIVITY
A fully optimized immune system uses up a ton of energy... when your physical stress hormones are activated - the immune system shuts down - so that energy can be applied to the extremities you're using during activity. The harder you push yourself, the more work is required from your immune system to build back, stronger. 23VITALS is a PHENOMENAL drink choice to help with recovery. Mix in a 16 - 32oz shaker with ice and fuel your hard working Immuno-Warriors!
BEFORE BED
When we sleep, our immuno-warriors get to do their best work! All energy is applied to whatever new challenges were introduced throughout the day. If you pulled a muscle, got a bruise, over exerted yourself or just had a really stressful day... your Immuno-Warriors work together as a team, doing what they do best! Sleep like a baby and wake up feeling refreshed, rejuvenated and ready for the new day!
Customer Reviews
Write a Review
Ask a Question
02/22/2021
Ted H.

United States
Love it
The taste! I love shaking up some ice cold water with a scoop of this stuff in the morning in a mason jar. It tastes like Tang, but it's freakin' good for me. It gives me a feeling of calm and security to know that I'm putting my immune system on the right path first thing every day. A fantastic addition to my routine. Thanks 23 Vitals! Just wanted to reach out to say thank you, great product, will continue to use.
02/19/2021
Ortiz D.

United States
Awesome!
Order was delivered very quickly. 23 Vitals is a great tasting formula and I absolutely love it! Would highly recommend!
02/18/2021
David F.

United States
Quite The Nutritional Package!
So Far, So Good. Blends well in My Home Made Drinks, Tastes Good. and is Definitely a Great addition to My Daily Nutrient Arsenal. I will keep using it on a Regular Basis, To ensure the Best Results. It usually takes a Short Bit of time to actually Feel Noticeable Results, especially given the Fact that I take a WIDE Variety of Supplements. Thank You for a Promising Product!!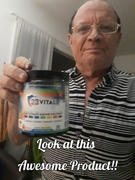 02/17/2021
kbrad

United States
Pretty good but...
I think this definitely helped my energy and I loved the taste but I wish it didn't contain MSM. This triggers headaches for me and I had quite a few while taking this. Not the company's fault so I still gave it 4 stars. I just wish they made a MSM-free version.
Thank you for leaving a review! Hmm... This is a super rare but known side effect of MSM... for those with a known sensitivity to sulfites. For those with sulfite sensitivity, clinical doses of MSM may trigger a headache. However, these effects are rare and the overall benefit + safety profile of OptiMSM (more expensive - but the highest quality) made it a worthy bioactive ingredient in 23. Tomorrow, try splitting it up into two... Not sure how much water you're using to mix it up - or drinking per day - but test an increased amount of water and up your intake in general throughout the day - see how you feel. If you're still feeling 'off' - please let me know - you can email me directly - tom@23vitals.com. TE
02/15/2021
Robert T.

United States
Only been taking for a week......
But I like the taste and the ingredients are really good. I drink before I go to bed, seems to help me sleep better. It has only been a week, but so far I am satisfied.
Thank you for leaving a review, Robert!
02/15/2021
Aoys C.

United States
Great product
Fast delivery; great taste. I ordered the orange creamsicle and it is pretty close. I drink it for breakfast and I love it!
02/03/2021
Jeniece A.

United States
Who knew?!
I take a slew of supplements & vitamins daily. Admittedly I took the typical bump of zinc at the on set of a cold or a pack of emergen-c. What really got my brain spinning was the 23 Vitals website. I went down the rabbit hole of information there, and emerged enlightened and challenged. I chose the strawberry lemon and it's so good! Took me a minute to find exactly how much water I wanted to use for my taste buds…but it truly is enjoyable to drink. 23 Vitals sits on my kitchen window ledge and I wake up, go make a shaker cup with ice and go on with my morning routine. (Note: I found it really needs to be shaken and I let it sit for a few minutes and then give it a good shake again… The first day I just tried stirring it with a spoon and it was a bit too gritty for me.) It has been a week since I started on it, and I truly do feel my gut is processing better, my energy feels more genuine and my thoughts feel clearer. It didn't happen right away, like I was half way expecting (like slamming an energy drink)......it was just yesterday that I looked down and my stomach was less bloated and I reflected on how my internal thoughts were, and I realized I felt clearer, or lighter. Can't really explain it. Just my experience. I would highly recommend it for you and any people in your Circle ⭕️. So you can all rise up together. Intrigued to try the orange flavor next. Thanks Tom & team for creating this.
So thankful to be one of the early users of this product, I wasn't sure what I should be taking and I'm a working mom of 4 with a newborn so I can't afford to have my energy levels depleted. I've been taking the Strawberry Lemonade in the morning with cold filtered water... it taste great!

Amber Aten, Busy mom doing all the things.
Loving it so far. My wife and I have incorporated 23Vitals into our morning routine... we've got a full house and a large mortgage - so we need all the extra force we can get!! Haha :) 

Ryan Blackport, Husband and Father of 3 young champions and 1 princess!
My son shared all the supplements he was buying on Amazon about 6 months ago and it was too complicated and steep for my blood. I needed it to be easier.  Been taking 23Vitals for over a month, just subscribed for more. It tastes great... and much easier to manage. No fear! 

David Elliott, Grandfather of 5
I have been taking this product for about a month now and love it. The strawberry lemonade flavor tastes great and goes down smoothly. It's been incredibly nice knowing I am getting in all the proper immunity supplements and vitamins without having to buy products individually, which can get expensive - I get everything I need in one scoop per day. I will definitely keep using this product!

Mark Malek
I've been fortunate enough to watch (from the sidelines) the development of 23Vitals from the earliest stages - in fact, I think I can safely make the claim that I have tasted and tested and taken more servings of 23Vitals than any other person. I love the product, I love the formula, I love the flavors and I continue to take it every single day. There is no miracle cure and there is no magic formula, but there are things we can do to give our bodies and immune systems the best fighting chance possible. I don't skip my daily workouts and I don't skip my daily 23Vitals, and all I can say is I'm happy with the results and the way that I feel.

Kyle Reynolds
I absolutely love 23Vitals! I feel great every day I take it. It's just what I need in these tough times to boost my immune system, which is typically pretty bad. I can feel a difference in myself since I've started taking it. The strawberry lemonade is delicious! Good for you and tastes great! That's a win, win if you ask me! Getting ready to order another bottle before I runout, it's part of my everyday routine. Would recommend!

Ivy Alverez