23VITALS™ for Total Immune System Optimization
WHY DRINK 23VITALS
Remember that feeling you once had - where you never thought twice about shaking someone's hand, hugging a friend you haven't seen in a while, or not worrying about your kids playing with other kids, or spending time with their grandparents?
WE ARE NOT MEANT TO LIVE IN A CONSTANT STATE OF SURVIVAL.
SEE WHAT PEOPLE ARE SAYING
INTENTIONAL SCIENCE INSPIRED BY THE GREATEST FORCE ON THE PLANET --> LOVE
Living in survival mode takes a toll on our Immune System. Over-exposure to physical, chemical and emotional stressors suppresses the immune system, leaving you exposed. Replace fear with confidence, knowing you are fueling your immune system with everything it needs to keep you functioning at your absolute best.
Great Taste - no pills
Drink One Scoop Each Day of Strawberry Lemonade or Orange Creamsicle Instead of Taking a Handful of Pills
Clinically Proven Immune Support
Over 50 Human Clinical Trials Backing Key Ingredients with Immune Support for Safety & Efficacy
All the Vitamin C, Vitamin D3, and Zinc you need
Over 500% DV of Vitamin C, Over 600% DV of Vitamin D3, Over 130% DV of Zinc
23 Science-Based, Immune Supporting Ingredients
Ingredients Selected with One Goal in Mind: Total Support for Your Entire Immune System
Beyond Boosting
Boosting is Not Enough, You Need Optimization. Optimized Immune Systems have All the Tools it Needs to Prepare, Defend, Support, and Recover from Challenges
Effectiveness First
No Corners Cut. Premium Immune Supporting Ingredients Dosed Effectively with All the Ingredients Your Immune System Needs
Ultimate Immune Solution
This is The Most Effective, Comprehensive, and Sophisticated Immune Supplement on the Market
7 Branded Ingredients
Premium, High Quality Assured Ingredients at Effective Doses
Innate Immune Support
Over 7 Ingredients Specifically Targeting the INNATE Arm of the Immune System (First line-of-defense Against Foreign and Internal Challenges)
Adaptive Immune Support
Over 6 Ingredients Specifically Targeting the ADAPTIVE Arm of the Immune System (Identify, Select, Neutralize and Keeps Memory of Foreign Challenges)
Whole Body Organ Support
8+ Ingredients Specifically Targeting Whole Body Organ Systems (Lung/Respiratory, Cardiovascular, Blood Flow, Gut-Microbiome and Brain/Nervous System)
Immune System Calming and Regulation
6+ Ingredients Focused on Regulating, Resetting & Calming the Immune System
23 BIOACTIVE INGREDIENTS, INTENTIONALLY DOSED INTO 4 DIFFERENT IMMUNO-ACTIVE BLENDS, ONE MISSION: BUILD A MORE RESILIENT & PROTECTIVE IMMUNE SYSTEM
Each and every ingredient choice serves a specific role, individually and collectively.
What began as a task to find an all-in-one supplement to keep our families and friends safe, quickly became a co-creation project to create the most complete immune system fuel in the world.
There are multiple aspects of modern living "conspiring" to take down our whole body health and organ systems... chief among them is our Immune System!
Living in survival mode can be addicting. Whether it's Physical, Chemical or Emotional.
However, when you are in this mode, you are unable to think clearly, you fatigue easily, you recover slower, you get sick easier, you age faster, and worst of all -- you suppress your immune system from doing it's job.
23VITALS was created to help you replace FEAR with CONFIDENCE.
Knowing you're fueling your immune system with the absolute best supplementation, available - anywhere.
We would not have created this, if it had already existed...
CLICK TO DIVE DEEPER INTO OUR FORMULATION
TOTAL IMMUNE SYSTEM OPTIMIZATION BEGINS HERE. ONE SCOOP, EVERY DAY --> YOU DECIDE WHEN IS BEST FOR YOUR ROUTINE
Our wish is for 23VITALS to give you the jumpstart you need - to make smarter decisions about EVERYTHING that impacts your immune systems ability to operate as it always has - where every one of us - has the ability to heal - ourselves. It's our responsibility to live happier, more meaningful lives - and this requires personal ownership of the decisions we make - no one else's.
MORNING ROUTINE
Incorporate 23VITALS into your morning routine. Add 1 scoop to 12 to 24oz of filtered water, w/ or w/out ice - shake or stir - get your fuel fired up to nourish your Immuno-Warriors who were hard at work while you slept! Everything is energy, right? Your intentions with this daily elixir will help to amplify your bodies absorption. Happy Fueled Immuno-Warriors x Positively Charged Mind = Clear Head & Full Heart -->> Ready to CREATE
RECOVERY FROM PHYSICAL ACTIVITY
A fully optimized immune system uses up a ton of energy... when your physical stress hormones are activated - the immune system shuts down - so that energy can be applied to the extremities you're using during activity. The harder you push yourself, the more work is required from your immune system to build back, stronger. 23VITALS is a PHENOMENAL drink choice to help with recovery. Mix in a 16 - 32oz shaker with ice and fuel your hard working Immuno-Warriors!
BEFORE BED
When we sleep, our immuno-warriors get to do their best work! All energy is applied to whatever new challenges were introduced throughout the day. If you pulled a muscle, got a bruise, over exerted yourself or just had a really stressful day... your Immuno-Warriors work together as a team, doing what they do best! Sleep like a baby and wake up feeling refreshed, rejuvenated and ready for the new day!
Customer Reviews
Write a Review
Ask a Question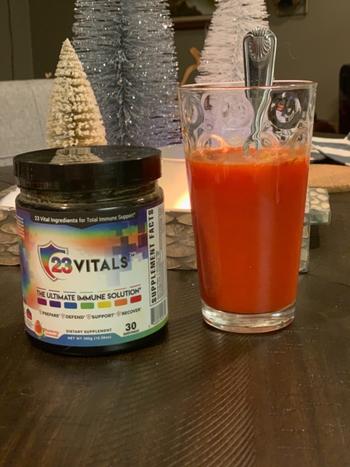 11/22/2020
Great product and flavor!
I have been taking this product for over two weeks. I feel more energized and who knew taking all your vitamins could actually be tasty. I have the strawberry lemonade. I typically take it first thing in the morning it's refreshing and helps me get my day started. Definitely will be ordering again!!
Rebeca R.
United States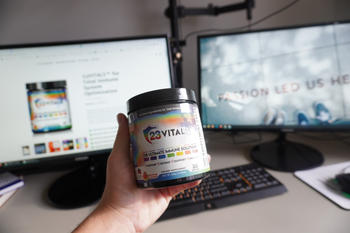 11/19/2020
Gives me the boost I need immediately upon awakening! Love it!
I used to drink coffee to get me started, but once I started taking 23vitals I have replaced coffee entirely and feel way more alert... in a healthier way. Highly recommend giving these guys a shot, you'll love it.
Dillan B.
Canada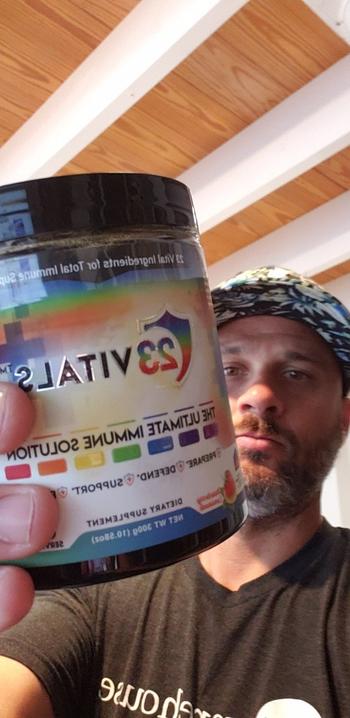 11/07/2020
So good!!! Stay healthy!!!
I started looking into an immunity booster supplement when Covid hit. I decided to get on the offensive and take the pandemic head-on. I came across 23 Vitals. It was packed with amazing ingredients and made a lot of claims. So I gave it a try. My initial reaction was, "wow, this tastes great"! It really does! It's like my special treat everyday. I've been drinking it religiously for 2 months now and I have never felt better. I have not been sick at all, while others around me have been. It gives me energy and I'm more focused then ever. I have both flavors and do not have a clear favorite. They are both delicious. Someddays I go with orange creamsicle, other days Strawberry lemonade. You can't go wrong. Do you yourself and your body a favor and give it a try. You want be dissapointed. Stay healthy!
Jeffrey R.
United States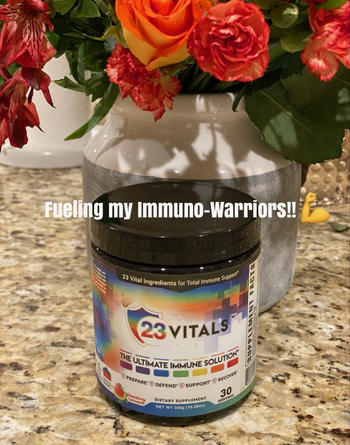 09/14/2020
Amazing Beyond Immune Support
Have been using 23Vitals for 4 weeks as one of the early users. I am a breast cancer survivor, and always vigilant about using only products that are of superior quality, with ingredients that have clinical evidence for efficacy. And I must say this product truly checked all the boxes! Flavor was outstanding...to the point that I look forward to my serving daily. I even serve it to my teenage daughter after her afternoon sports practice. The Ingredient profile seems to be the most complete & thorough that money can buy. This will now be part of my daily regimen & should be in yours too.
Yari A.
United States
11/23/2020
Great Product and tastes great!
The taste is great and I feel more energetic and "heathy" after taking it for 2 weeks.
Matt M.
United States
So thankful to be one of the early users of this product, I wasn't sure what I should be taking and I'm a working mom of 4 with a newborn so I can't afford to have my energy levels depleted. I've been taking the Strawberry Lemonade in the morning with cold filtered water... it taste great!

Amber Aten, Busy mom doing all the things.
Loving it so far. My wife and I have incorporated 23Vitals into our morning routine... we've got a full house and a large mortgage - so we need all the extra force we can get!! Haha :) 

Ryan Blackport, Husband and Father of 3 young champions and 1 princess!
My son shared all the supplements he was buying on Amazon about 6 months ago and it was too complicated and steep for my blood. I needed it to be easier.  Been taking 23Vitals for over a month, just subscribed for more. It tastes great... and much easier to manage. No fear! 

David Elliott, Grandfather of 5
I have been taking this product for about a month now and love it. The strawberry lemonade flavor tastes great and goes down smoothly. It's been incredibly nice knowing I am getting in all the proper immunity supplements and vitamins without having to buy products individually, which can get expensive - I get everything I need in one scoop per day. I will definitely keep using this product!

Mark Malek
I've been fortunate enough to watch (from the sidelines) the development of 23Vitals from the earliest stages - in fact, I think I can safely make the claim that I have tasted and tested and taken more servings of 23Vitals than any other person. I love the product, I love the formula, I love the flavors and I continue to take it every single day. There is no miracle cure and there is no magic formula, but there are things we can do to give our bodies and immune systems the best fighting chance possible. I don't skip my daily workouts and I don't skip my daily 23Vitals, and all I can say is I'm happy with the results and the way that I feel.

Kyle Reynolds
I absolutely love 23Vitals! I feel great every day I take it. It's just what I need in these tough times to boost my immune system, which is typically pretty bad. I can feel a difference in myself since I've started taking it. The strawberry lemonade is delicious! Good for you and tastes great! That's a win, win if you ask me! Getting ready to order another bottle before I runout, it's part of my everyday routine. Would recommend!

Ivy Alverez